By Lisa Gordon
Europe's 'New Institutionalism' began to flourish in the 1990's. Provoked by ongoing, neoliberal austerity, many galleries sought to democratise their curatorial, educational and organisational processes by creating spaces which promoted production, debate and criticism. Alongside exhibitions, larger institutions were now offering workshops, events, readings and residencies. The Rooseum – a conteporary art gallery in Malmö was a vanguard in the New Institutionalism movement. By 2000, when Director Charles Esche stepped in, Rooseum showed an experimental exchange between art, artists and audience and offered exhibitions and commissions linked to seminars, discussions and screenings. His first exhibition entitled: There is gonna be some trouble, a whole house will need rebuilding sought to examine how the institution and the art it houses act a tool for democratisation and social change. According to curator and critic Jonas Eckberg, some of the other institutions which followed on from and expanded on the principles of New Institutionalism included: Bergen Kunsthal, Kunstverein München, Palais de Tokyo in Paris and Contemporary Art Center in Istanbul.1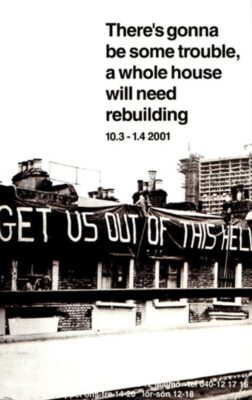 Exhibition poster of  'There is gonna be some trouble, a whole house will need rebuilding' at Rooseum, Malmö, 10.3-1.4.2001. Design by Andreas Nordström, 2001.
However, by the mid-2020s many or these establishments fell prey to privatisation and conglomeration and either closed or were influenced and led by politicians and sponsors. The Rooseum itself became part of the expanding Moderna Museet, Stockholm in 2009.
So, how does New Institutionalism look today? Artist and writer Hito Steyerl stated: 'Is it not rather absurd to argue that something like an institution of critique exists, at a time when critical cultural institutions are clearly being dismantled, underfunded, and subjected to the demands of a neoliberal event economy?'2 Claire Bishop's book, Radical Museology discusses some of the issues related to museums and contemporary art in the world – post New Institutionalism. Although continuing to be plagued by decreases in public funding, Bishop offers new hope by describing several institutions which have found alternatives to their exhibitions strategies. One such example is the The Museo Reina Sofía in Madrid. They are candid in their mission statement and state, 'The generation of a new cultural model must be accompanied by institutional changes, because institutions have long been the principal structures for inventing the social realm, for generating affirmative and non-limiting action.'3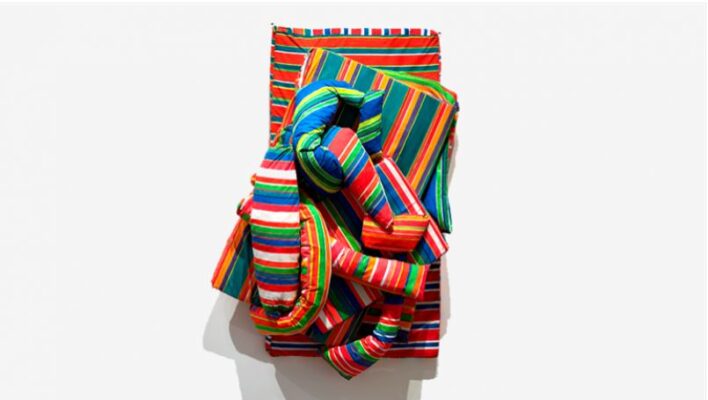 Marta Minujín, 'Amor a primera vista' (Love at First Sight), 2007. An artwork from 'Collection. Episode 2 – Enemies of Poetry: Resistance in Latin America, (opening soon).
Building on the crucial idea of the institution as a communal space, The Museo Reina Sofía says of its collection, 'Our idea is to build a collection characterised by multiple forms of relation that question our mental structures and the established hierarchies….This condition creates an openness to the other and to the presence of other cultures and ways of doing things in our own praxis, without fear of a hypothetical loss of identity.'4 What is particularly important to The Museo Reina Sofía is its belief in building a network of partnerships with groups, social movements, universities, and other bodies to question the museum and generate spaces for negotiation rather than mere representation – as valid participants in the dialogue, as peers in the process of defining goals and allocating resources. Ultimately reflecting what a museum of contemporary art should really be.
1 Jonas Ekeberg ed., New Institutionalism Verksted #1, Office for Contemporary Art Norway, Oslo, 2003.